In retrospect, I don't know why I was totally ignorant of this con. It's been right there since before I became interested in slash. On the other hand though, it wasn't there 30 years ago when I was actually active in fandom.

When I realized that an online friend actually ran it, I wanted to go just for that reason, but time and money are always overly precious around here. Then I ran into a compatible person who was actually going, and thus had both transportation and room cost cut in half, and I grabbed the chance.

It was a unique experience to me. I had never been to a fan con before, unless you count the local EerieCon, which I don't.

It's at least a 10 hour drive to Chicago. We talked *nearly* nonstop about anything and everything. Karen's back problems keep her from travelling for long periods, so we stayed overnight in Indiana both going and coming. I always head for the most convenient Hampton Inn. I can rely on them to give better quality at lower price.

Observe, if you will, the spacious, well-appointed room. Notice the abundance of pillows, including a small, firm pillow which works well for us who've had hip replacements, as well as multitudenous other uses. The lap desk, good for breakfast in bed, writing, drawing. The abundance of other work surfaces, mirrors, and drawers. It may not be obvious, but the comforter-bedspread is wonderously soft and dreamy.

See the cord coming from the wall next to Karen? That's an ethernet cord. I remember spending hours and $50 to get my laptop connected just a few years ago. And the first one we stopped at, on Thursday, even had a complimentary laptop available in the lobby.

Also, note the bedside lamp. Easily accessible, and can be turned on for either or both sides.

Then there's the bathroom: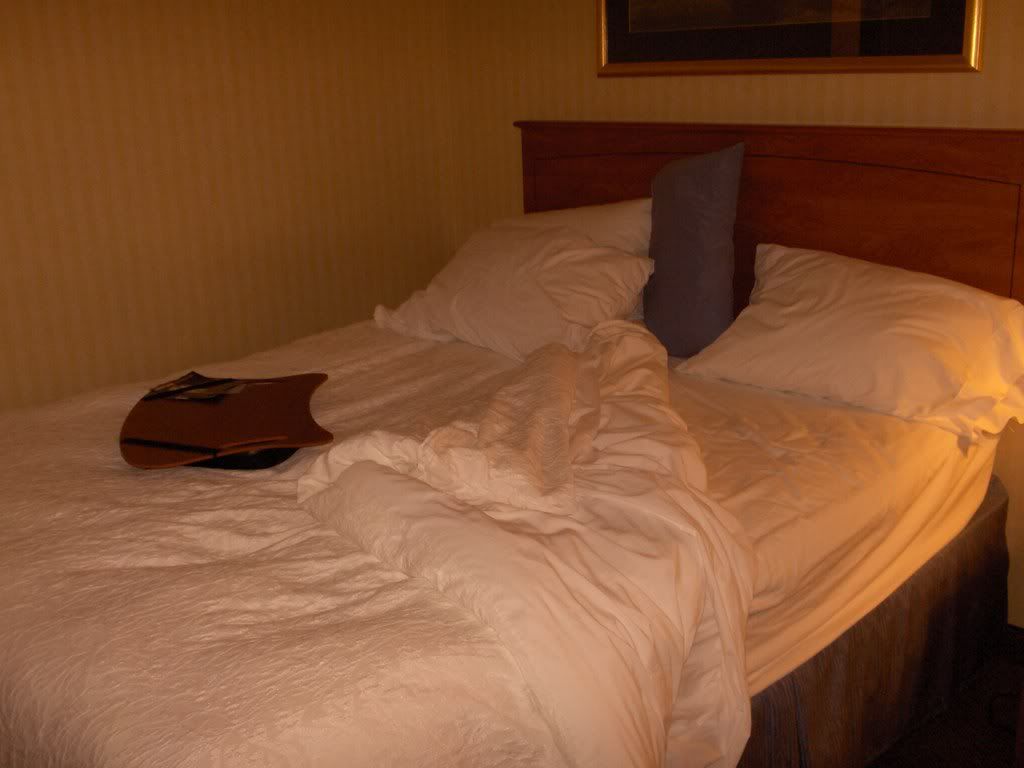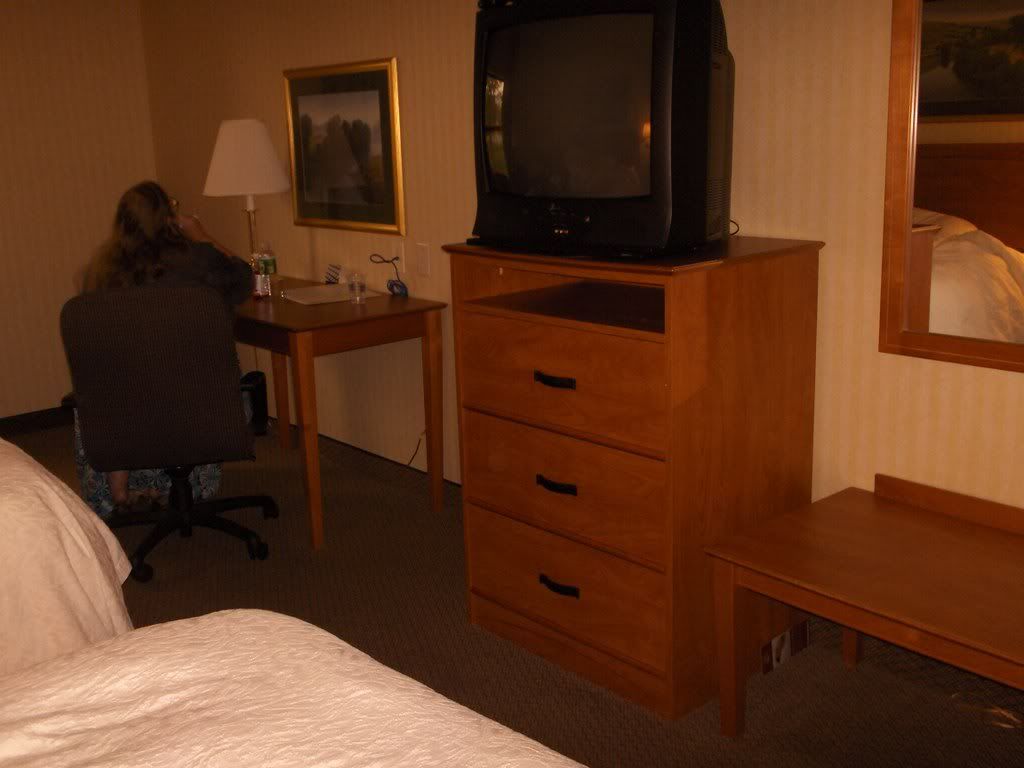 Then there's the bathroom: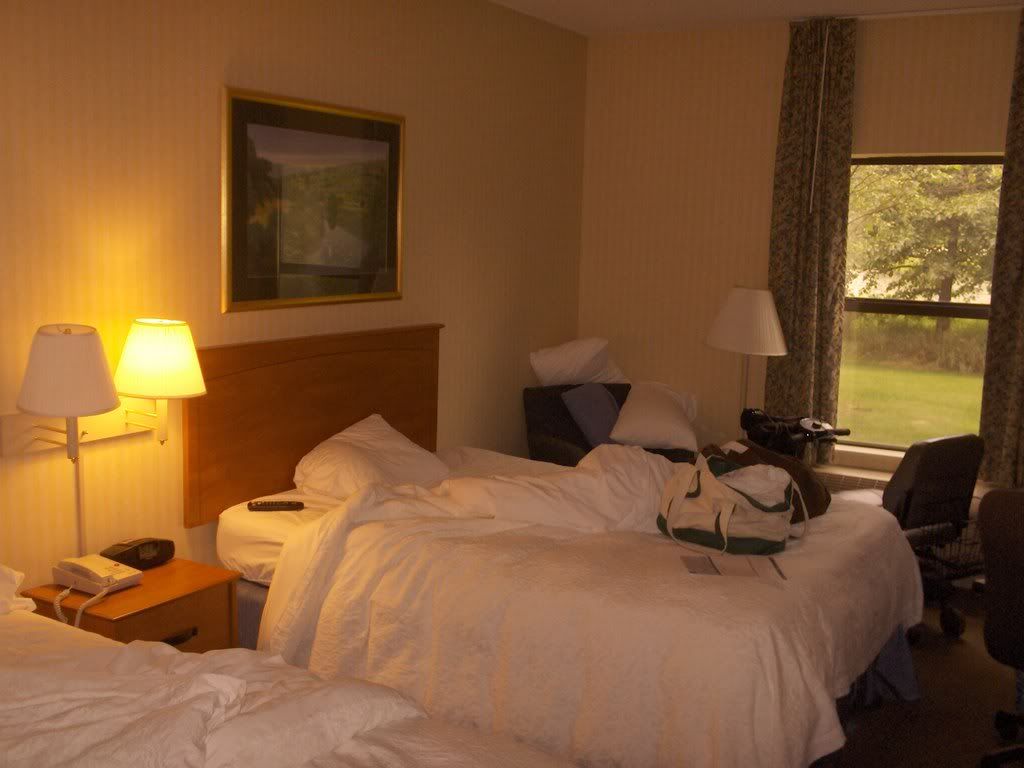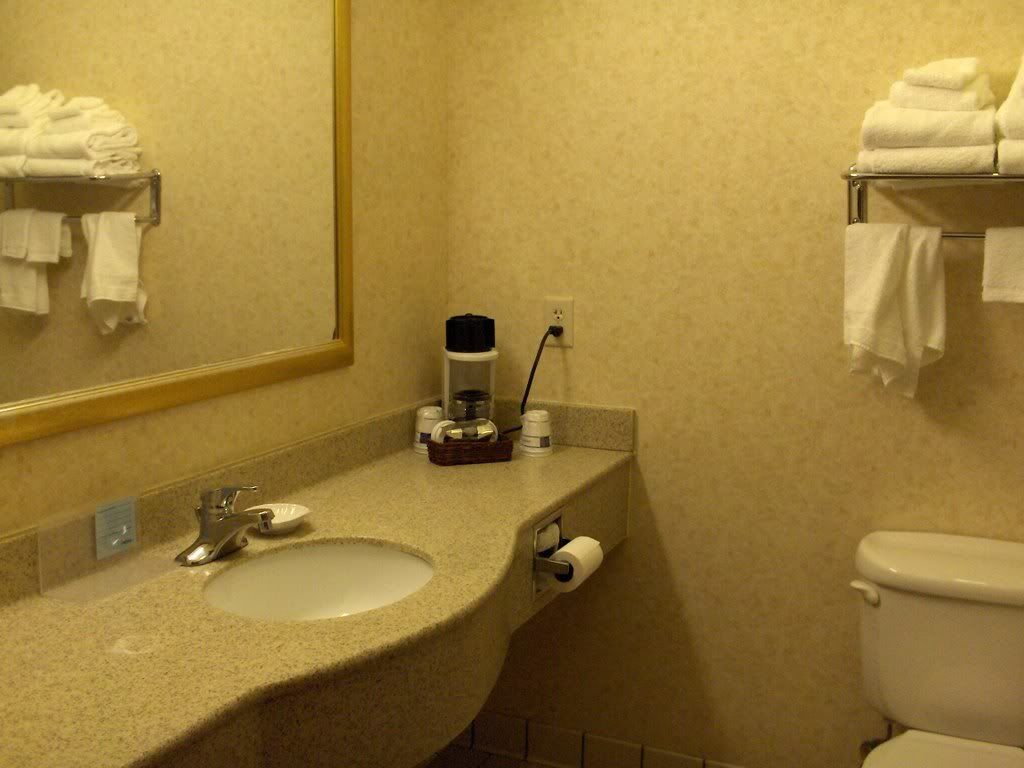 Plenty of counter space, and large mirror.

They also have (wish I'd thought to take pictures) a complimentary breakfast which this time consisted of sausage, french toast, bagel, muffins (made in-house), danish, choice of cereal (hot or cold), apples, orange juice, milk, coffee, pop. This includes the use of toaster and microwave, which one can also use for one's own food if desired.

I really like the Hampton.

I suppose the Wyndom tries. I suppose that it's more expensive to run within a major city than out on the road where you find Hamptons. But just to compare:

- It cost more per night
- The bed wasn't as comfortable (to me, anyway)
- The beds were much! smaller
- There was only one table surface, unless you count a little round thing about 18 inches across
- Lab desk? What's that?
- Little firm pillow? You have got to be kidding!
- $14 breakfast
- Bathroom counter? What for? (We *did* get a fully-handicapped bathroom, which was great for my roommates.)

But never mind that. You get what you get in a hotel. Just remember to keep the maids out.

Due to the normal driving errors - starting out late, missing turns, etc, we arrived just in time for me to get to the panel I had offered to co-moderate, on RPS.

My co-moderators, E.Brooks and sockii: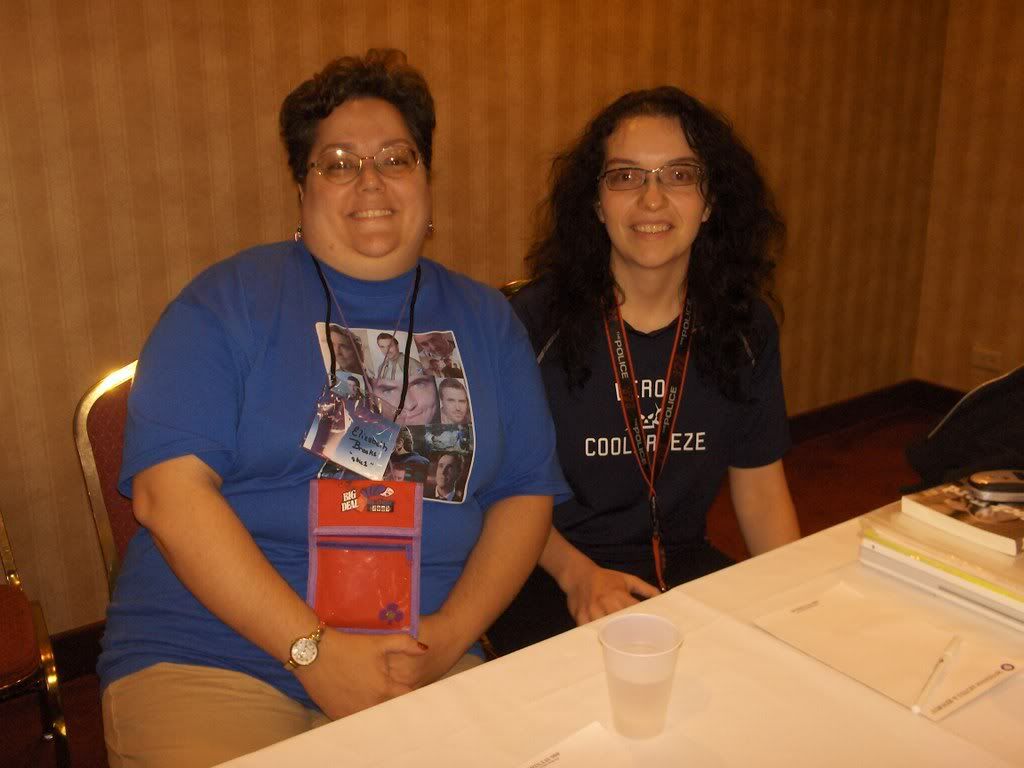 As I said to the group, I may not be knowledgeble, but I'm opinionated. E and sockii turned out to be very knowledgeble. I had a great time with that panel.

(Did you know that it is actually *more* legal to write about real, living persons (so long as it's properly labelled as fiction) than it is about fictional characters? Because, of course, fiction is copywrited.)

I had brought some things to sell, which someone generously allowed me to display on her table, but I hadn't realized just exactly how totally this con was about particular shows or movies. Without any Starsky and Hutch, Pros or Heros people displayed on my goods, it was pretty much completely ignored. Live and learn.

My roommates were congenial:
Melissa and Karen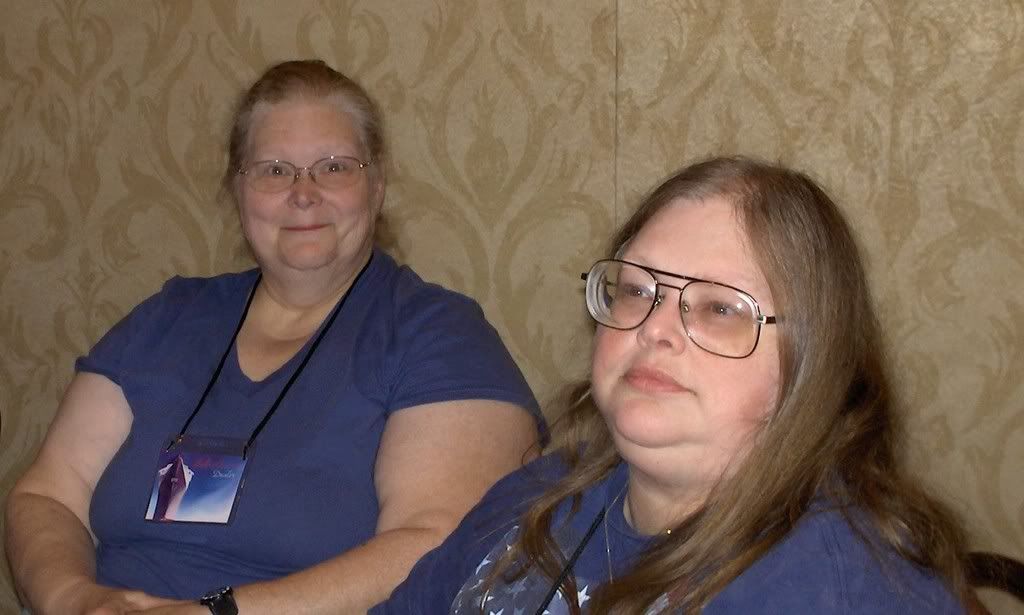 Major regret: Not enough time for talking with Melissa.

The party on Saturday night was cool. The deserts were plentiful - fattening, and most importantly chocolate;



the tables were lovely -





- with an inscribed glass for each attendee, and a centerpiece for someone at the table to take.

The play, which had been put together in a bare two weeks, was funny and delightful. To me, anyway. Most found it hilarious. A few just regretted that the person who has done it for years couldn't make it this year.

And Karen, you were wonderful. Just the right touch of lightness and nostalgia. And you totally rock as an auctioneer!

(I'm putting my own picture right beside hers, because it fits there neatly, but it's bound to make me look worse exactly proportionately to how much better it makes Karen look! And the last picture is that same dress as I wore it to the TORn Oscar party, about 30 pounds ago.)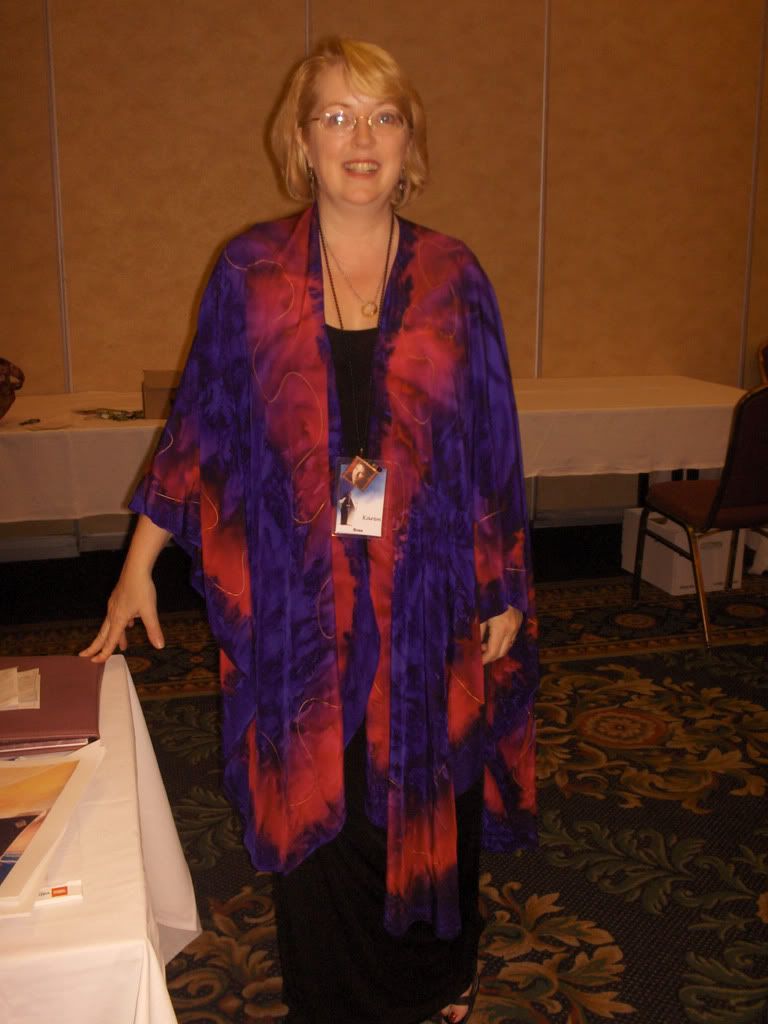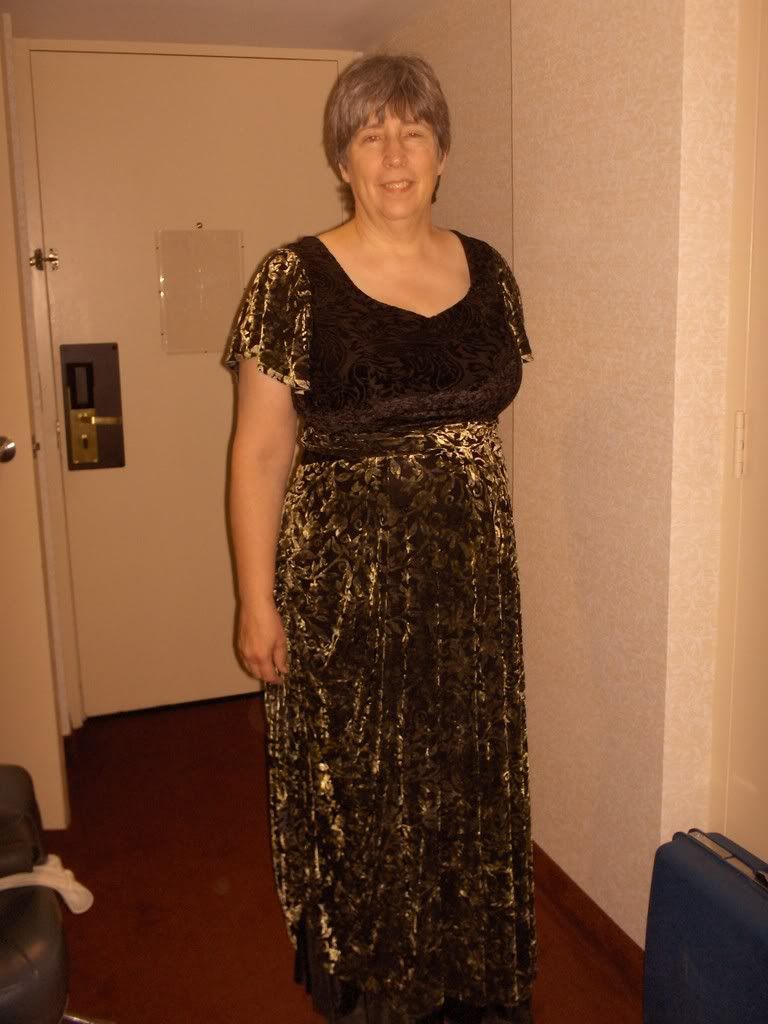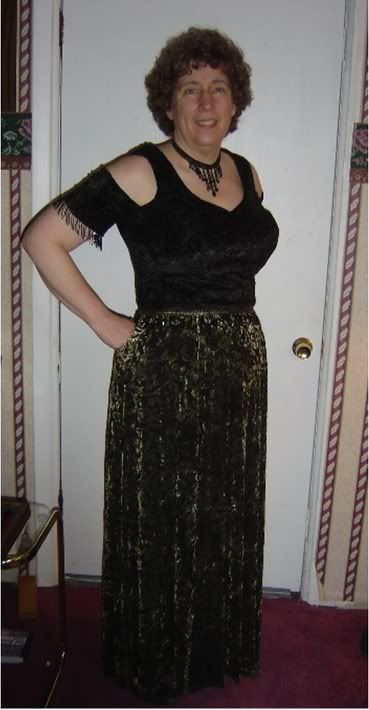 I may have had the very best time on Sunday. With no panels or party that day, I located some congenial people to spend time with. One of the artists, Mary Ludwig (who is very good), does almost exclusively Elijah, and had some wonderful drawings of him. She let me look through her sketchbook, which I spent nearly an hour doing. We were joined by Terri, an Elijah fan from England, and had a wonderful time talking. Later, I joined Mary again at a booth which was selling LotR fanzines, Spiderweb Press (http://www.skeeter63.org/silvablu) and very much enjoyed talking with her and Susan about LotR things in general.

Also,
lilithlotr was there, and I had a great time catching up with her. She also sold me a couple LotR items, and put me onto a couple others which I would otherwise have missed. And gave me a couple of her photographs of Elijah and Dom omg!