I should make note that I don't do it *all* myself. For two years I have hired a neighborhood boy, Carlos, to help me with lifting and picking things up, and have had him use power tools, etc. But Carlos is somewhat retarded and there's only just so much he can learn.

On the other hand, there's only just so much he can expect to be paid, too.

Back in February or March I mentioned finding a kid who wanted to help out in order to build a portfolio. I won't go into the whole story again, but basically he thought he knew more than me, and it didn't last.

I've found another kid who's intelligent and eager to learn. It won't last. He'll move on to better things. I just wish I had more money to pay him for more time now, while I have him.

Along with the new floor, the step needed to be redone. The step itself would be wider, and needed new support: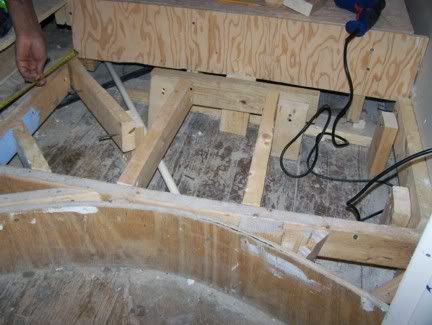 And here with the step on. Cutting the curve was a bit tricky.




I seem to have forgotten to take pictures for a while there, which doesn't surprise me. Getting the floor down flat and prepared for tiling was a difficult, touchy, and frustrating process. I took the floor back up twice because it wasn't level enough. Then, in order to be firm enough that tiles won't crack, I had to put down cement board. You can see a piece of cement board below on the right. It looks very much like wallboard, but the 3 x 6 sheets of it were heavier than a 4 x 8 sheet of wallboard.

In this pic, the tile isn't laid, just planned out. I wanted whole tiles at the front of the step, which is an 'L' shape, and I wanted to have the space for the oak stepnose that you can see here. That was tricky. I ended up drawing the grid on the floor.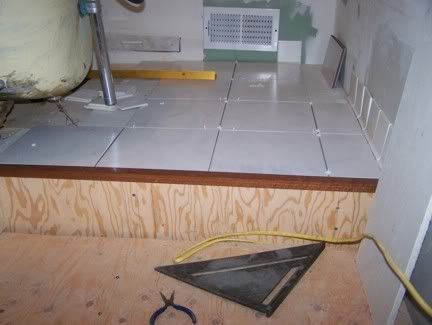 The curved tiles on the right in the pic above are are the same as the one in the back. I was *very* lucky (and more than lucky) that they also fit across the back when the rows of tiles were laid down. It was perfect! Without those tiles, which I've had in the back room for more than a decade, I'd have had difficulty with finishing out that edge.

Fast forward.

Here are the two rows of wall tiles and the floor finished in the tub area. The shower water wall has magically sprung into position, and you can see here that it's a bit crooked in the back. I redid it twice and gave up, for which I'm sorry. In the foreground, you can see the wood floor with the cement board on it, and the window in the back. This is the same view as the one I posted here: http://mother2012.livejournal.com/254704.html#cutid1.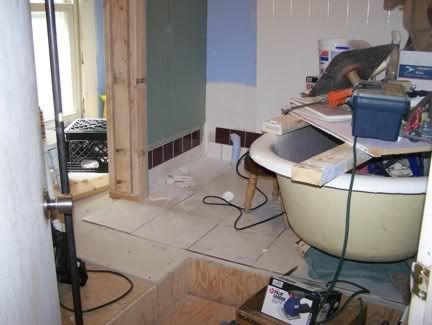 A tiling detail. Tiles had to be cut to fit around drainpipes. I got fairly good at it.