I never wrote up Sean, did I?

It's been a bad week. I'm afraid I've had more bad than good lately. I have't peeked in at E_F for over three months.

But here are the links, if you missed anything you want to read. And here's my (very brief) report on Sean.

Getting to Toronto

The hostel
Pictures of it

The Pain

Volunteering

Saturday complications

Lines

The Fonz

Sean

Sean is a truly sweet and simple (as in what-you-see-is-what-you-get) man. He doesn't (appear to) lie in order to make himself look good, he doesn't put on airs. Just one of the cutest smiles in moviestardom. He loves to talk, and will do so anytime, anywhere, with anyone. Well, that's my observation, anyway. He can ramble on forever when he's talking to a group, and he does the same thing when he's just standing around waiting. And as far as he's concerned, everyone is his friend.

Since he was sitting on autograph row with the rest of the semi-famous, I knew he would be available for talking and getting to know a bit, IF he wasn't too busy. But then there was the Saturday problem, so I wasn't there. On Sunday, he was indeed too busy, and I'm glad for him, but there had been a couple really slow hours on Saturday, so Lor got a chance to visit with him.

Whatever they talked about I have no idea. All I know is that Adil (in charge of the autograph lines) was horrified to find one of his volunteers sitting behind Sean's table talking with him. (We briefly talk to any of them from in front of their tables. I don't know exactly what he said, but it was along the lines of, "Don't bother the guests. Come away." Sean grabbed Lor as she tried to get up and said, "Don't take her away! She's my friend!"

Never got that from anyone else.

Lor worked his line as long as he was there, both Saturday and Sunday. She stopped when he left the table to go get her photo with him on Saturday, and we made sure to be the last in the line. Sean was considerate of everyone, greeted everyone like friends. The (female) photographer was also great. When she took my picture, I had a funny look on my face and she retook it. Twice. And Sean was completely willing for her to do that. Afterward, he insisted that everyone (the photographer, her assistants, and the volunteers who helped her) get a photograph together. And willingly posed for candid shots with our personal cameras. Here's one (Lor's face blurred out):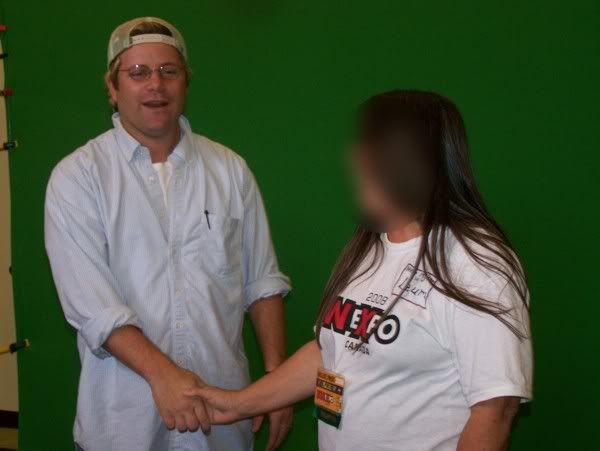 Since Lor was already established as Sean's volunteer, I busied myself with whatever else I could still get out of the weekend on Sunday. Sean's talk was scheduled for 3:00, and the photographs were to come back after 1:00, so about 2:00 I got both Lor's and mine and went back down to find her. Sean's manager assured us that we could get autographs (without charge) just before Sean quit to go upstairs, and in fact he gave us nearly five minutes.

I took the opportunity to ask the one thing I've wondered about - whether he was doing anything else politically since Hillary Clinton was no longer in the presidential race. He said, "Hillary knows I'll drop what I'm doing and come help her in any way possible; but she isn't doing anything right now." I asked whether he would do anything for Obama, and he said that they knew he was there, but they hadn't asked.

I don't remember much from his talk. He started out mentioning each of the things he was doing, including a new movie. I believe that's the one that IMDb calls "Stay Cool", where he plays a gay man who goes by the nickname 'Big Girl'. You can see by his picture that his hair is blond under the cap, which he wouldn't take off. I suspect it also has a weird cut.

The only thing I really remember him talking about was "There and Back Again". He said that all the official interviews of the time were so short, and there were things that *had* to be said, but he felt that he had more to say about it. Especially in view of having to put on so much weight, unlike everyone around him, and he felt like it set him apart. There was a lot that he considered his unique experience which he really wanted to say, and that after the book was done, he felt tremendously relieved, and more like he could move on now.